Additional Funding for Braille Is Beautiful Workshops
for Parents of Blind Children

By Joyce Wales, NFBC Parents of Blind Children Chapter President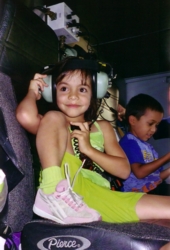 Elena and Ricardo enjoy exploring
the fire engine parked just
outside the convention hall
The NFB created the Braille Is Beautiful program to teach sighted children the basics of Braille. The NFBC has modified this program and geared it toward parents of blind children. Two such workshops have been completed and two more workshops are scheduled for the spring of 2004. A generous grant in the amount of $10,000 has been received from the PacifiCare Foundation for the continuation of this vital program.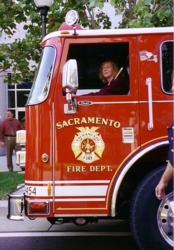 Nancy Burns admits being
a kid at heart
Many requests were received for a Braille Is Beautiful workshop in Spanish. This will now happen on Saturday, April 3 in Los Angeles. A workshop has also been scheduled for the San Diego area to be held on April 24. These workshops continue to be productive and well received by parents.










---
Previous | Table of Contents | Next