Whale Watching

By Robert Stigile, NFBC San Fernando Valley Chapter President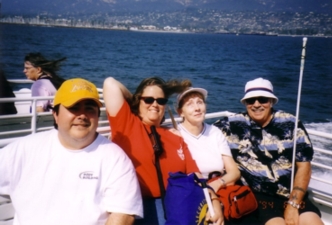 Robert Stigile and Tiffany Manosh enjoying an afternoon
of whale watching with Nancy and Don Burns
The San Fernando Valley chapter has gone on numerous fun excursions. The idea of a whale-watching trip was proposed. During the month of October, humpback whales are often sighted off the coast of Santa Barbara. The chapter felt that this would not only be enjoyable but would also be a great Meet the Blind Month event.
John Boal, a sighted board member and outreach coordinator, took the ball and ran with it. He thought it would be a great idea to combine our chapter outing with another group that he volunteers for called Destiny's Children, an organization that works with under-privileged children.
The chapter felt it would be beneficial for me to meet with the children's group prior to our trip. John and I met with the group and I discussed blindness issues such as travel with the white cane or guide dog. I also handed out NFB literature including Braille alphabet cards. By the time we left, the children were trying to learn the alphabet in Braille and were very enthusiastic about the trip.
On Saturday, Oct. 18, approximately a dozen members of the San Fernando Valley chapter met in Burbank. We split up into two vans mingling Federationists and kids into both vans. We then drove to Santa Barbara where we boarded a 75-foot catamaran that took us on a whale watching tour.
The weather was perfect for an ocean outing. It was sunny and fairly warm. There were volunteers on the boat who assisted the tour company by passing around three-dimensional models of whales.
As we sailed toward Santa Cruz Island, many of us experienced the wind and the mist from the bow of the boat. Occasionally the captain stopped the boat and we could hear the sounds of Rizzo's dolphins. Most of the Destiny's Children group were unaccustomed to sailing. The kids made it through the day, however, and some of them made friends with the Federationists. Damon, the youngest kid on the trip, handled the ocean movement quite nicely and hung out most of the day with Danny Solomon. Danny is a blind schoolteacher from Ventura.
The Destiny's Children group, in addition to members of the public on board the ship, learned a lot about blindness. They saw us moving throughout the ship, ordering meals in the galley and taking photos. The only bad news about this trip was the fact that no humpback whales were sighted.



---
Previous | Table of Contents | Next